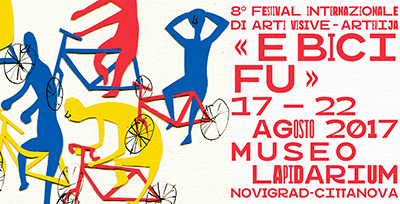 Arterija – Festival internazionale delle arti visive, quest'anno dedicato alla bicicletta nel bicentenario della nascita.
Numerosi interventi artistici, mostre, presentazioni e workshop saranno presentati nei luoghi visibili e nascosti del centro storico di Cittanova tematizzando ed esplorando diversi significati della bicicletta attraverso l'artre contemporanea, la fotografia, la letteratura, cartoni animati o film, giocattoli, metafore, a fatti storici e scientifici.
MOSTRE, OPERE D'ARTE, PARTECIPANTI, RAPPRESENTAZIONI
Davie, Hans Op de Beeck, Cvitko Bilić, Đanino Božić, Cnjotfihter?, Braco Dimitrijević, Dalibor Kazija, Vasko Lipovac, Anto Lloveras, Marco Milia, Oleg Morović, Bojan Mrđenović, Majda Novak, Pino Pascali, Petikat, Zdravko Pilko, Narcisa Potežica, Srinivasa Prasad, Hans Schabus, Schabus, Mario Schifano, Goran Škofić, Linus Riepler, Vladimir Perić Talent, Goran Trbuljak, Stipan Tadić, Seriously Twisted, Matjaž Vipotnik, Techno Vikings, Kushtrim Zeqiri, Danijel Žeželj, Hrvoje Živčić.
PROIEZIONI DI FILM
Buster Keaton, Vittorio de Sica, Pink Panther, The Simpsons, Sylvain Chomet, The Queen, Tom Waits, Alex Gibney, Zdenka Vučković & Ivo Robić, Nat King Cole, Donald Duck, Con la bicicletta in Cambodia, etc.
WORKSHOP
Come fare la bicicletta di bambù // 17 – 19/8/2017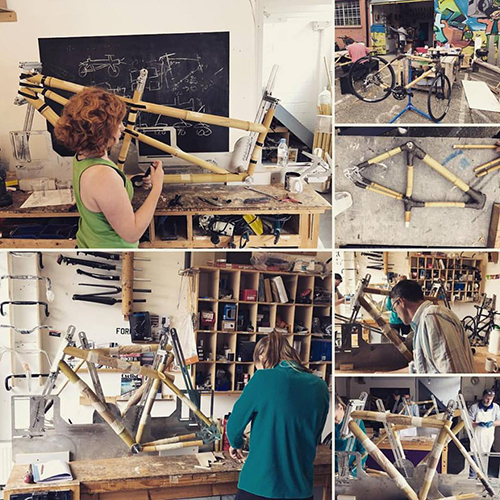 Workshop di Bamboo Bicycle Club (London, UK) // Bamboo Bicycle Club
Ciclismo – riciclo // 19 – 21/8/2017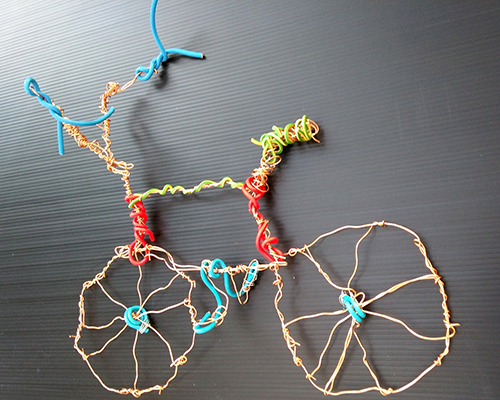 Workshop di Margerita Rakić (Pula, CRO)
TOUR D'ISTRIA IN BICICLETTA
Partecipano: Bojan Mrđenović, Stipan Tadić & Hrvoje Živčić
– – –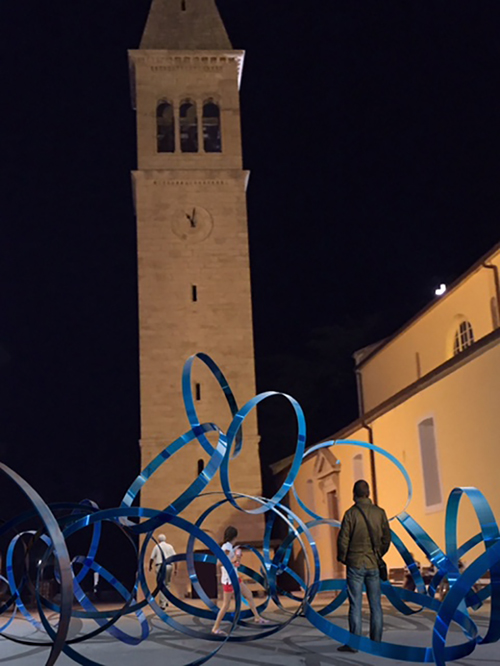 Marco Milia: "Nell' essere idrico"
Policarbonato alveolare 35 cerchi diametro 200 cm
Dimensione ambiente
In collaborazione con Istituto Italiano di Cultura Zagabria
Courtesy by Marco Milia // Marco Milia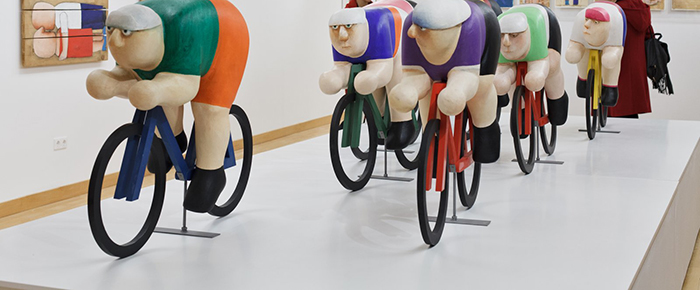 Vasko Lipovac: "Biciklisti / Cyclists", 1995.
Courtesy by Mario Lipovac, Split

Braco Dimitrijević: "Tryptichos Post Historicus", 2005.
Courtesy by Museum of Modern and Contemporary Art, Rijeka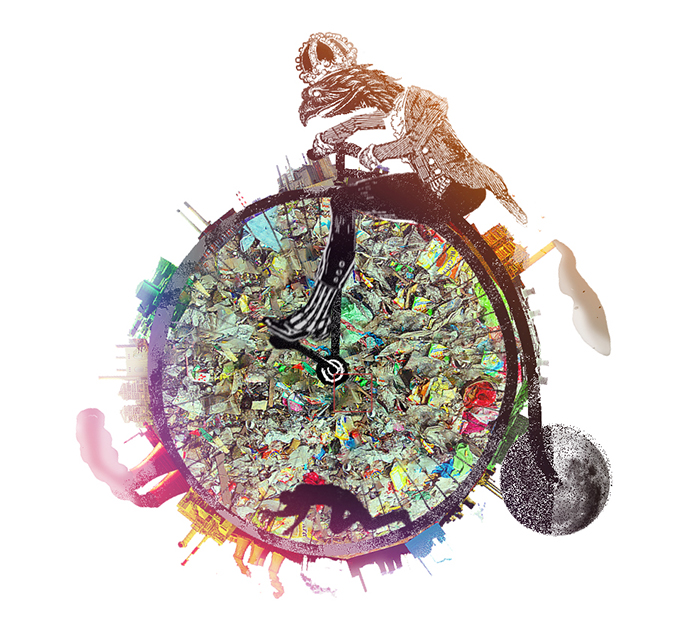 Dalibor Kazija
"Kozmička kolotečina"
Courtesy by Dalibor Kazija
– –
Flyer Letak_pdf
Design grafico by Oleg Šuran

Workshops – iscrivetevi – sono gratis! – Create la bicicletta da bambù! Fatte da soli una bicicletta riciclata da bambù!
17 – 19/8/2017: alle 11 dalle 13 e 19 dalle 22 ori: Come creare la propria bicicletta di bambù
19 – 21/8/2017: alle 11 dalle 13 e 19 dalle 22 ori: Ciclismo – riciclaggio
– – –
Vittorio de Sica "I ladri di biciclette / Bicycle Thieves"| La chiesa della Beata Vergine dell Carmelo: alle 20 ore (1. proiezione), alle 21:30 ore (2. proiezione)
Sylvain Chomet "Les Triplettes de Belleville" | Parco del Vescovado cittanovese : alle 21:00 ore