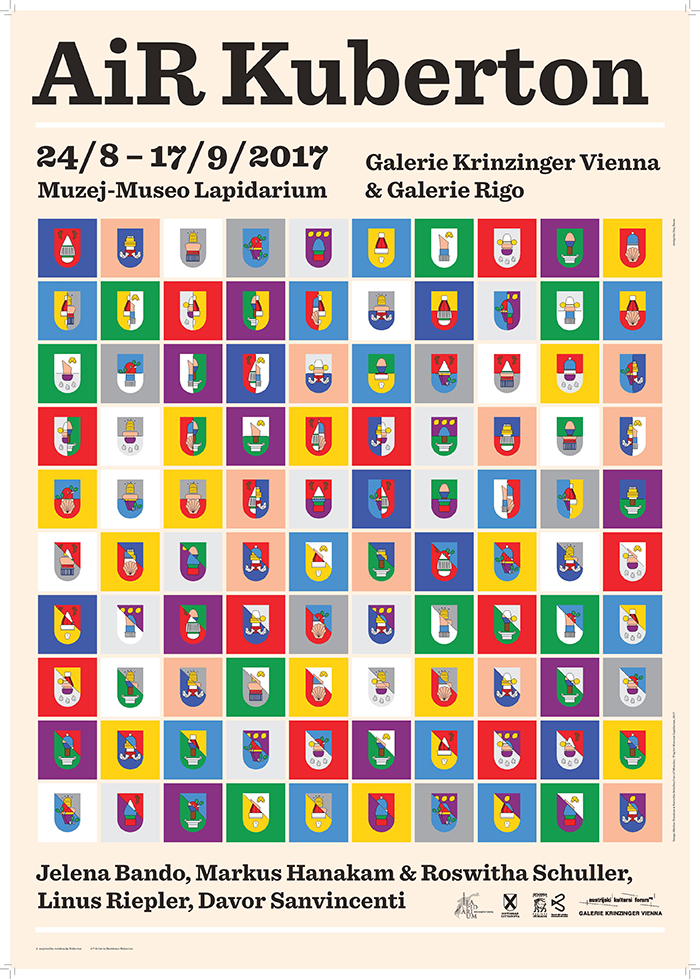 In collaboration with Ursula Krinzinger (in April 2018 the artworks will be presented in Vienna), the project "Artist in Residence Kuberton" ("shortly AiR") is a part of gallery program from Museum Lapidarium done with Krinzinger Gallery from Vienna. The program is held in residential home from family Krinzinger in Kuberton, and it is supported by the Austrian Culture Forum Zagreb.
The "AiR Kuberton" is the first one in Istria which started with practice of contemporary artists of younger and middle generation whose main goal is to exchange and collaborate with international gallery/museum instituitions. Such way of artistic and culture exchange is seen as one of the best ways of cultural collaboration, contextualisation of artistic production both on regional and national level. It is important to mention the continuity of AiR Kuberton that makes up a part of fundus of the Rigo Gallery. "AiR Kuberton" is also a reference point in promotion for croatian artist and their entrance in the global artist market.
Museum Lapidarium, especially Rigo Gallery, since the very beginning has been working on basis of hosting artists for several days in order to achieve better quality and communication between contemporary artist practice, landscape, citizens, but also space for artwork, exposure or production. In 2016, we organized pilot project "AiR Kuberton", which showed exceptional success, so in 2017 we organized a second meeting which proved meaningfulness and importance of "AiR Kuberton".
Jerica Ziherl
Exhibition will be opened by Ursula Krinzinger
Curator: Jerica Ziherl
AiR Kuberton 2016: Anja Ronacher, Maja Marković, Christian Eisenberger, Bernard Oppl and Dino Zrnec. Their newly made artworks were exposed in Rigo Gallery, and in April 2017 on big exhibition "AiR Krinzinger Projects" in Vienna.
// The program is supported by the City of Novigrad – Cittanova, Department of Culture of Istria Region and Austrian Culture Forum Zagreb //
– – –

Hanakam & Schuller: Coat of Miracles – 100 Wappen, AiR Kuberton 2017
Design by Oleg Šuran