Upcoming
PROGRAM 2023
Muzej-Museo Lapidarium
2/6/ – 2/7/2023
Dajla-Daila: Testamenta heri et hodie
exhibiton
Dajla – Church of St. John the Baptist
24/6/2023 – at 5 p.m.
Dajla-Daila: Testamenta heri et hodie
Book presentation
Organized by Muzej – Museo Lapidarium
Rigo Gallery
17/6/ – 9/7/2023
Ana Sladetić & Miran Šabić
Exhibition
Velika ulica 5, Novigrad-Cittanova
Muzej-Museo Lapiadrium
7/7/ – 9/8/2023
Istra kao Gaja
Exhibition from the Collection of the Rigo Gallery
Rigo Gallery
14/07/ – 6/8/2023
Petar Brajnović – Arheologija kruha
Exhibition
Velika ulica 5, Novigrad-Cittanova
Rigo Gallery
8/8/ – 21/8/2023
Marcelo Viques
Exhibition in collaboration with Krinzinger Schottenfeld, Wien
Velika ulica 5, Novigrad-Cittanova
Muzej-Museo Lapidarium
13/8/ – 12/9/2023
Ana Elizabet – Space Time 0
Exhibition
Rigo Gallery
18 /8/ – 10/9/2023
Miljana Babić & Nada Žgank – Till Death Do Us Part
Exhibition in collaboration with Krinzinger Schottenfeld, Wien
Velika ulica 5, Novigrad-Cittanova
Muzej-Museo Lapidarium
15/9/ – 22/9/2023
14th Arterija – Unplugged
International festival
artists: Wolfgang Berndt, Amelia Bowles,  Robin Davourie, Michael Jaeger , Antoine Langénieux-Villard, Marlon Red, Shawn Stipling, Beat Zoderer, Ivo Ringe, Heather Sheehan.
performance: Oleg Morović, Tomislav Brajnović, Josip Pino Ivančić, Đanino Božić, Mladen Stokar, Vadim Fisckin, Mateja Bučar.
Rigo Gallery
16/9/ – 8/10/2023
Heather Sheehan – One Woman. One Stone.
Exhibition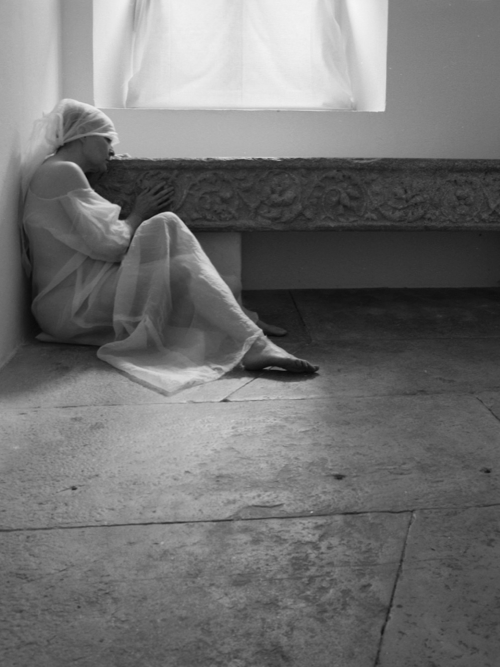 Velika ulica 5, Novigrad-Cittanova
Muzej-Museo Lapidarium in Cuberton
9/ – 10/2023
8th Artist in Residence Kuberton
in collaboration with Ursula Krinzinger
Muzej-Museo Lapidarium
30/9/ – 4/11/2023
Golden Watermelon 7. 0
Exhibition
Metamedia Association, Pula
Muzej-Museo Lapidarium in Kutina
5/10/ – 3/11/2023
Istra kao Gaja
Exhibition in cooperation with Muzej Moslavine Kutina
PROGRAM 2022
MUSEUM LAPIDARIUM
2/4 – 9/4/ 2022
in collaboration with Faro11 from Rovinj-Rovigno
STARTART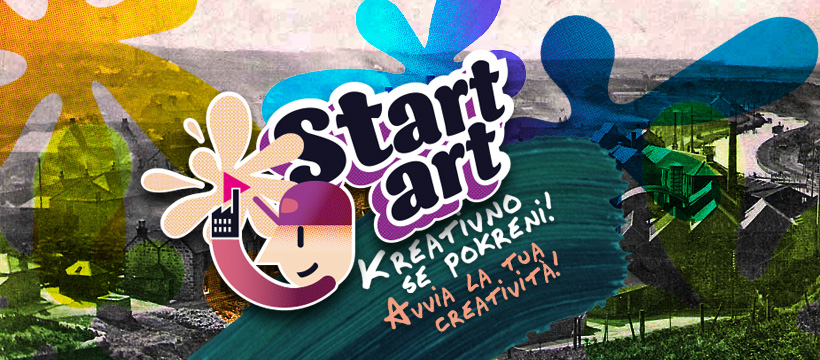 The StartArt project offered artistically gifted high school students from the Istria County the opportunity to participate in a traveling exhibition, which will be held in galleries and cultural centers in Bale, Novigrad and Labin, and in an online exhibition. The best works, two chosen by the expert jury of L.A.E. XXI and one chosen by the audience in the voting via Instagram (startart01), will be a guest artist next year at festivals / events held on Media Mediteranea, Pula; GRISIAyouth, Rovinj and Arterija, Novigrad.
At the StartArt exhibition, we presents eight works by ten young authors: Andrea Pasuli, Teo Stoković and Luka Vivoda, Paulo Krbavac, Erika Nežić and Ela Gržinić, Tibor Svetličić, Elena Kiss, Katarina Špehar and Leonarda Ivašić. The first prize and the audience award went to Leonarda Ivašić with her work "The Power of Movement", and the second place went to Elena Kiss's "Trains".
The organizer of the StartArt project is Faro11, Rovinj-Rovigno
Partners: Metamedij, Pula; L.A.E. XXI, Labin; Museum-Museo Lapidarium, Novigrad-Cittanova; Bale Tourist Board.
The StartArt project is co-financed by the County of Istria and the City of Pula.
MUSEUM LAPIDARIUM
27/4 – 1/5/ 2022
Mediarej Project: Mediation and Restorative Justice Training
Coordinator: Instituto Jacques Maritain (Italy)
Partners: APS Nathan (Italy)
Fundatia Professional (Romania)
Asociacion Ambit (Spain)
European Forum for Restorative Justice (Belgium)
Creative Social Work Association (Croatia)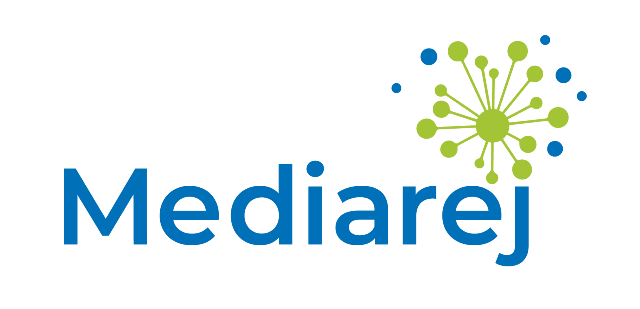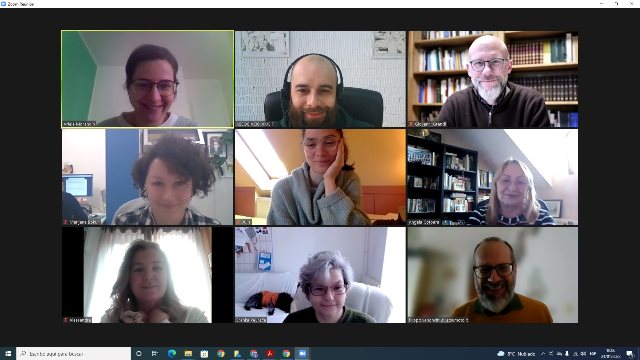 Museums preserve and present historical material and are therefore important links in interpreting the past and achieving a common understanding of events and their impact on different groups and individuals. In this way, museums help people to deal with past events in a constructive way that contributes to mutual understanding and respect for different experiences in personal, familial, and collective history.
Restorative justice is an approach to justice in which the search for a solution and decision-making is based on the inclusion of those who have been affected by an event or an act that has caused damage or violated rights. This approach uses mediation or facilitation to form a path to common understanding and agreement on how to repair the damage, correct the injustice and reach a just solution to the problem.
In recent years, Europe has seen a development of very different training models in restorative justice and mediation – from postgraduate studies to training tailored to the needs of individual communities. The MEDIAREJ project develops innovative methods to increase the quality of training for mediators and facilitators of restorative processes and for creating a network of experts and organizations from different countries.
RIGO GALLERY 
30/4 – 28/5/ 2022
Samira Saidi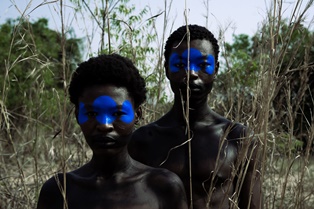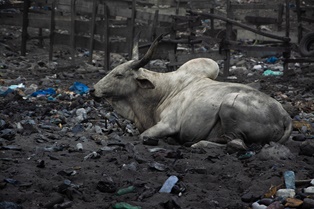 Samira Saidi_Ecoystems © Samira Saidi            Samira Saidi_Wasteland © Samira Saidi
https://samirasaidi.com/SAMIRA-SAIDI
MUSEUM LAPIDARIUM
26/6 – 24/8/ 2022
ISTROX
Museum Lapidarium
in collaboration with
The Research Centre for Romance Linguistics, University of Oxford
50 Years of the Istro-Romanian Language: from the Oxford-Hurren collection to the ISTROX project
Exhibition opening on 26 June 2022 at 8 pm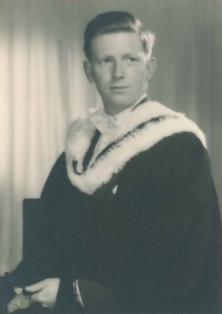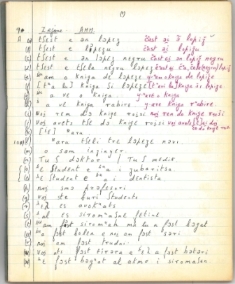 The linguist Tony Hurren                      Page from Tony Hurren's notebooks
Oxford Research Archive (ORA)        Oxford Research Archive (ORA)
Opening talk: Professor Martin Maiden (Director of the Research Centre for Romance Linguistics, University of Oxford) and the ISTROX team
Members of the Zejanski and Vlaski communities will be invited to the opening of the exhibition
Curated by Jerica Ziherl in collaboration with the ISTROX team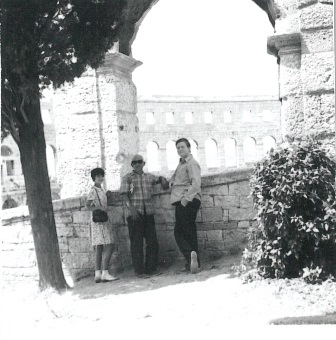 1960s. Gracijela Bortul, Frane Stroligo ["Cattolico"], Tony Hurren, Arena, Pula.
Oxford Research Archive (ORA)
The exhibition will present an overview of research at Oxford University into the Istro-Romanian community in the Istrian Peninsula and their language. It takes as its starting point archival photographs and audio recordings from the research of the Oxford linguist Tony Hurren conducted in Istria the 1960s (donated to Oxford University by Mrs Vera Hurren), and compares it with photographs and audio recordings from the Oxford University ISTROX project, focusing on areas of continuity and change over the past 50 years.
5 / 6  / 7 /  2022
7th ARTIST IN RESIDENCE KUBERTON
Muzej-Museo Lapidarium in collaboration with Ursula Krinzinger, Vien
Igor Grubić, Đanino Božić, Damir Stojnić, Matija Debeljuh
6 / 7 / 8 / 2022
Muzej-Museo Lapidarium in collaboration with Schottenfeld Krinzinger, Vien
RIGO GALLERY
Ana Sladetić, Milan Šabić
Stefanie De Vos
Miljana Babić & Nada Žgank
Angelika Wischermann
RIGO GALLERY
17/6 – 30/6/2022
Igor Grubić
Do Animals…?, 2017
Multidisciplinary project (5 posters, photography, short film)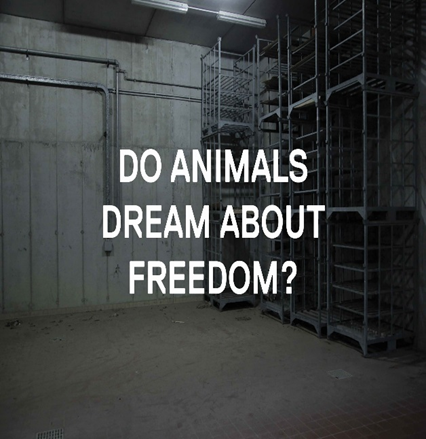 Do Animals…? (2017) is a multimedia project based on the artist's research on former slaughterhouses in northern Italy during his time in the RAVE East Village Artist Residency program. As a staunch supporter of animal rights and moreover as an activist, Grubic investigates the psychological effect these factories of death have on human consciousness. The work is composed of a series of five posters that feature photographs of now empty former slaughterhouses, overwritten with the artist's questions, that appear in the city center in the form of anonymous ads. Silent and cold, but at the same time distinctly disturbing, the images are visually conceived as the path an animal takes from life to death, from light to darkness. Like a surreal call to public moral responsibility, through his work the artist introduces the general public to his examination of humankind's conflicted feelings towards animals, taking full advantage of commercial mainstream media – urban billboards. The Do Animals…? project is also accompanied by a film shot inside these former slaughterhouses at night, together with interviews with former slaughterhouse employees. (A.R)
MUZEJ – MUSEO LAPIDARIUM
18/5 – 18/6/2022
Marčelo Brajnović
 Among people – for the second time! Perfect performer for all time
 7 pm exhibition opening
7.30 pm introductory speech and screening of video Gumila by Matija Debeljuh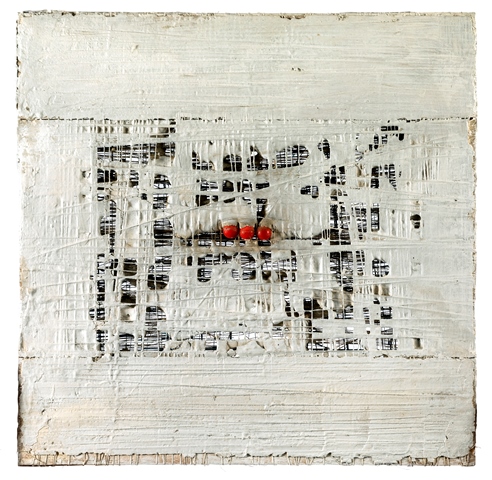 No name, 1960. inv. num. 606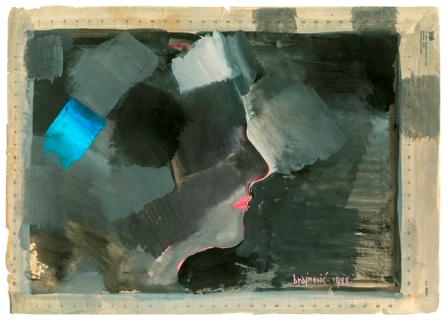 No name, 1988., inv. num. MML 607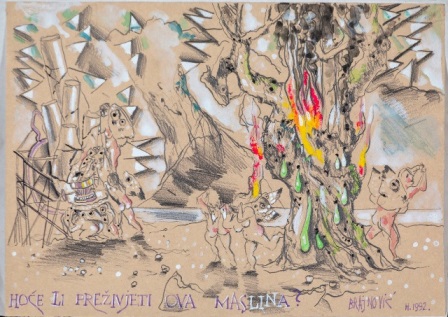 Will this olive tree suvrive?, 1992., inv. num. MML 295
Named after the sentences from the 2017 poster, written and designed by Marčelo Brajnović, the exhibition adopts a contemporary perspective in attempting to present some hitherto unknown details in relation to the legacy of this artist. In addition to the objects from the Lapidarium Museum, the display also includes privately owned art works most of which have never before been presented to the public.
However, this exhibition is not and, naturally, cannot be a monographic retrospective but more of our admiration and a step towards a better understanding of Marčelo Brajnović's artwork. What is yet to be made is an attempt to explore, interpret, and value this precious artistic heritage, especially after Brajnović's entire oeuvre has now assumed its final form, and this pressing task is something that awaits a whole team of future interpreters of Marčelo's diverse work.
It is enough to cite only one incomplete overview of the artistic biography of Marčelo Brajnović (Rovinjsko Selo, 1934-2021). He was one of the first Istrians who enrolled, of all things, in art studies in Zagreb, and partly in Belgrade. He socialized and created with his colleagues devoted to abstract expression, and met Zvjezdana Hegedušić, his future wife. All this occurred within a decade, roughly between the late 1940s and the early 1950s. This young Marčelo was succeeded by a mature one – a painter who worked in several European countries. Upon his return to native Rovinjsko Selo, this versatile artist and songwriter created his living space with his family on Gumila, the plateau of the Golo brdo hill.
Despite the fact that Croatian art history classified him as a surrealist, and that he occasionally and for a short while agreed to some alliances, he was perhaps the most unrestrained individualist known to the area where he worked. However, Marčelo was not that because of his often-cited eccentricity or tales about his work, but because of the principled behaviour with which he sought to respect and achieve the fullest extent of freedom for himself as a man and as an artist. He was responsible only for his own power, faith and will as an untarnished creative being. In modern society, the price for such intransigence and incompatibility is very high, but Marčelo was ready to endure it without leftovers, and with no regard to status, materiality and all other ephemeral pickings.
Therefore, this exhibition also deals with Brajnović's samizdat, manifestos, theses and projects, which, based on a specific form of expression and very subjective views, articulate thoughts on the "Embassy of the Kingdom of God", criticism of authority, the role of artist-emissary Elijah who is bound by social norms and media terror. Perseverance, which is rare today, steered him not to humiliating and dehumanized deception, but to the true hope for what Léo Ferré called "divine Anarchy."
And yet, despite his reputation among connoisseurs and admirers, despite awards and recognition, numerous exhibitions and works of art in museum collections, Marčelo Brajnović has remained a "big unknown", even to those who appreciate him as an artist. Therefore, this exhibition modestly contributes to an interpretation of such a multifaceted person and versatile artist or, as he himself wrote, "the perfect performer for all time"; of the artist who is always here and present, though not fully discovered, unidentified, vague.
That is why the exhibition is expanded with Matija Debeljuh's new video work based on his several-hour-long interview conducted in 2016 with Marčelo Brajnović on Golo brdo. The measured dynamics of visual, musical and content-related elements of the video create new possibilities for the coexistence of two opposing artistic generations in the same exhibition space and initiate their cooperation. Using the techniques of hybrid collage, Matija Debeljuh animates Brajnović's concepts and working principles in cinematographic time, which represents both an homage to the entirely distinctive artist and a new audio-visual work in Matija's series of works on "Istrian themes".
Exhibition curator: Jerica Ziherl. The exhibition will be open until 18 June 2022.
GALERIJA RIGO 
5/8 – 22/8/ 2022
Nika Oblak&Primož Novak
And Now for Something Completely Different 14
kinetic video installation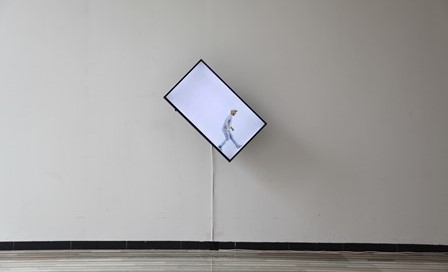 Novak2019.WhereDoWeComeFromWhatAreWeWhereAreWeGoingproductionshot
In the spirit of the Monty Pythons, the sentence 'And now something completely different' found its place in urban vocabulary as a short commentary on any madness. The Slovenian artistic tandem Oblak&Novak use it for their kinetic video installations questioning the possibility of "escape from the screen"; screens among countless screens, information boards and smartphones that overwhelm our conteporary existence.
The exhibition consists of two selected installations: the first shows a woman running endlessly from screen to screen, accompanied by monotonous sound and white background, while the second shows a man caught inside a rectangular screen walking endlessly (looks like he clumsily turns a big wheel, but in reality it is  16:9 LCD monitor).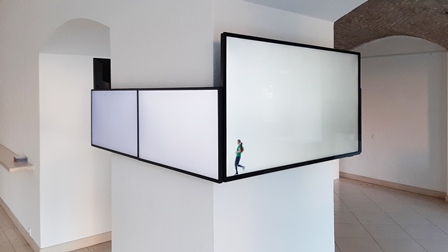 Infinity.digital(1)                                                                                                        Infinity.digital(2)
Nika Oblak&Primož Novak have been working together since 2003. In their art practice they exame the influenec of media and capital on contemporary society, dissecting visual and liguistic structure. Oblak&Novak are the authors of numerous projects, including performances, films, photographs and installations, that together constitute an ongoing investigation on contemporary life, focusing on its most controversial aspects: the traps of consumerism, the oppressive structures of work and politics, the ambiguous relationship between reality and fiction, the hidden perils of an uncritical use of technologies.
MUSEUM LAPIDARIUM AND RIGO GALLERY
2/9 – 9/10/ 2022
THE ČIČAK COLLECTION
Curated by Zvonko Maković, PhD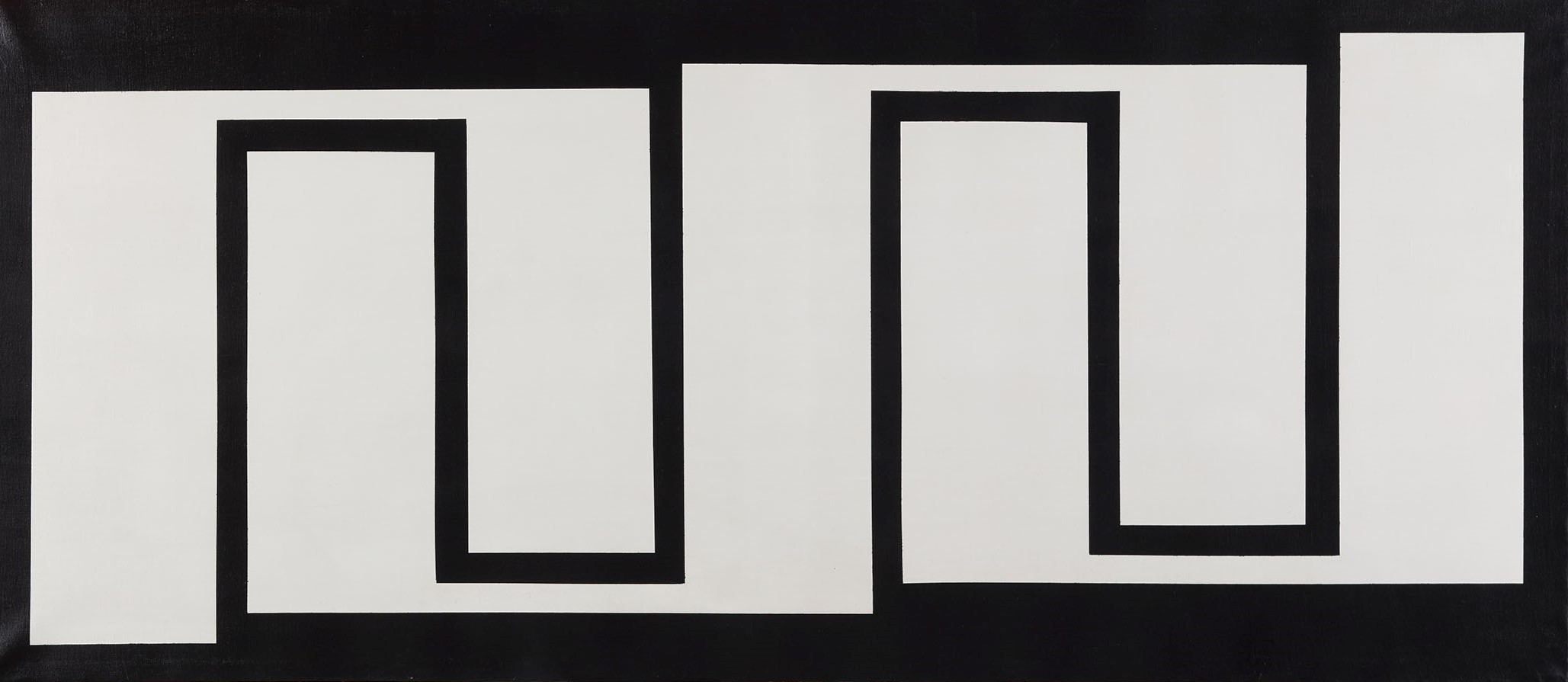 Julie Knifer Meandar M – 75, 1975 (70×160), ©Zbirka Čičak
There are several exceptional private modern and contemporary art collections in Croatia. Each of them attests to an individual approach of their collectors to the choice of artists and art works, and by the quantity and quality of art pieces they might be regarded as alternatives to national museums of modern and contemporary art. Igor Čičak and Gordana Gregurić Čičak are two of such collectors. Even one look at their collection reveals their personal affinities. For years, they have been passionate, but also deeply thoughtful in choosing art works, especially those created from the mid-20th century until the present day. These works always represent their creators in a very distinguishable way and stand out as seminal pieces within each of the individual oeuvres, and Croatian modern and contemporary art in general. The number of artists, or their works, has never been a defining characteristic of the Čičak Collection. The collectors have always relied on the level of artistic quality and distinctiveness that each work of art represents within a whole, within a sort of imaginary museum. One of the particularities of the Čičak Collection is that it contains mostly abstract works of art showing different approaches to abstraction. However, one can also find artists and pieces that are considered by contemporary classification as going beyond the borders of abstraction.  It is sufficient to mention only the artists whose works not only form the foundation of the Čičak Collection but also the foundation of contemporary Croatian art in general. These are all representative works created by artists who were members of the EXAT-51 group, such as Ivan Picelj, Vjenceslav Richter, Aleksandar Srnec, Božidar Rašica, and Vlado Kristl, and the Gorgona group, such as Julije Knifer, Đuro Seder, Ivan Kožarić, Marijana Jevšovar, and Mićo Bašičević Mangelos. There are also works of great individuals who did not belong to these two groups but who, together with their members, created the highest standards of 20th-century Croatian art. Among them, mention should be made of Vojin Bakić, Dušan Džamonja, Edo Murtić, Miroslav Šutej, Ivo Gattin, Eugen Feller, Juraj Dobrović, Ferdinand Kulmer, Otona Gliha, Frano Šimunović, Ljubo Ivančić, and Miljenko Stančić. Even this short list of names makes it clear that the Čičak Collection represents not an alternative but a worthy complement to the collections of key national museums of modern and contemporary art.
The exhibition will be open until 9 October 2022
MUZEJ – MUSEO LAPIDARIUM
21/10  – 4/12/ 2022
from the Museum's Let to know Croatian heritage program:
Muzej Mosalvine Kutina / Moslavina Museum in Kutina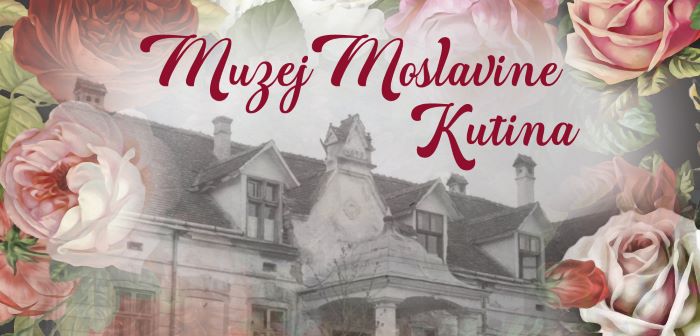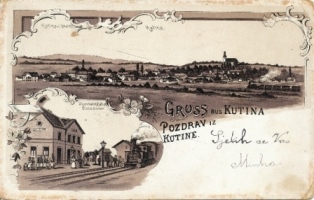 " Trijem crkvena" courtesy of Muzej Moslavine Kutina       " Postcard" courtesy of Muzej Moslavine Kutina
Moslavina Museum in Kutina is a complex institution which deals with collecting, processing, presenting and publishing of the cultural and historical treasures of Moslavina, a county situated in Croatian Posavina and Western Slavonia. Regardless of the distances and different settings, our two museums are connected by one motive – the griffin. Although from different periods, our griffin's items we'll contextualize by side of multimedia and interdisciplinary exhibition. The other link of our cooperation is artist Ivan Milat, the founder and curator of the Moslavina Museum, who lived and taught in Pula from 1951 to 1955, where numerous drawings from that period were created. One of Milat's students' lives in Novigrad, which was an additional reason for artist presentation, as well as the fact that the artist's grandson Josip Milat Mikalka, a history student in Pula, wrote an essay on remembering his grandfather, and about his drawings from the family collection.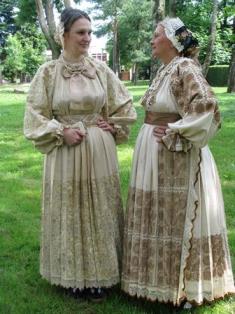 "folk costume" courtesy of Muzej Moslavine Kutina
The exhibition concept of visiting the Moslavina Museum in Novigrad, also for the first time in Istria, contains a selection of cultural and historical material with griffin motifs, a selection of postcards from 19. /20. century on the theme of Moslavina, a selection of ethnographic items (Easter eggs, "peče"and costumes), a selection of works by Ivan Milat (paintings with Kutina motifs). During the exhibition, lectures and educational workshops are planned. The presentation of a part of the collections of the Moslavina Kutina Museum in Novigrad is an additional contribution to a better knowledge and appreciation of Croatian cultural heritage.
Curated by Jasmina Uroda Kutlić and Jerica Ziherl. The exhibition is on view until 4/12/2022.
– – –
The organizer reserves the right to change the date and program for these events.