Museo Lapidarium
8/9 – 8/10/2018
Eumenide
In collaborazione con Galleria della città di Osijek
Curatrice: Branka Benčić
L'appertura: 8/9/2018 alle 19 nel Museo Lapidarium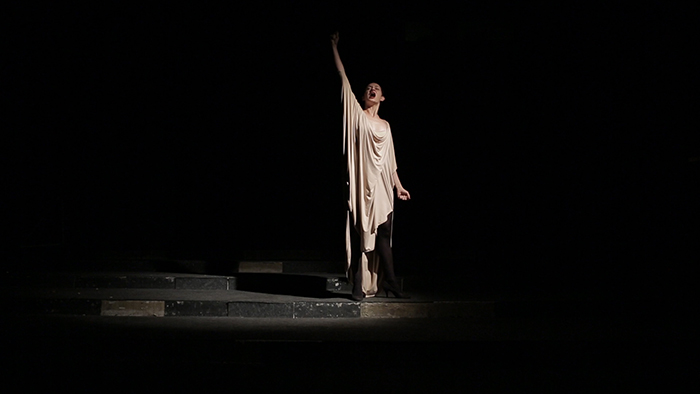 Con la cortesia di Lala Raščić, Eumenide
Il progetto Eumenide sarrà presentata per la prima volta al pubblico croato nel corso di una serata. Nella sede di Museo Lapidarium, Lala Raščić parlerà del progetto, presenterà il libro e un'canale video/performance. La curatrice della mostra Branka Benčić, parlerà d'artista e di progetto.
Lala Raščić
Nata a Sarajevo nel 1977. Diplomata nel 1995 nella Scuola di Arti Applicate e Design a Zagreb, dipartimento di Graphic Design. Nel 2001 si diploma in pittura e educazione artistica alla Accademia di Belle Arti di Zagabria. Dal 2003 al 2004 frequenta la Rijksakademie van Beelende Kunsten di Amsterdam. Lala vive e lavora fra Amsterdam e Zagabruia. La sua pratica spazia dal disegno, al video alla performance all'installazione. I progetti di Lala sono noti all'estero e hanno ricevuto consenso in importanti gallerie, istituzioni, rassegne e festival internazionali.
Fra le mostre più recenti: Evil Earth System, Good Children Gallery, New Orleans (2016); Evil Earth, Tobačna001, Ljubljana (2015), Eumenides, UNO Campus Art Gallery, New Orleans (2014), How to do Things With Words, ŠKUC, Ljubljana (2014); Nema zemlje do slobode, Mali Salon, Rijeka (2013); Whatever the Object, GfZK, Leipzig (2013); A Load from the Inside – Reviewed, Sigmund Freud Museum, Vienna (2011); Tutto è collegato, Galleria d'arte di Bosnia e Hercegovina, Sarajevo (2007); Testimoni – corpi nei processi di dialogo e riflessione, MMC Luka, Pula (2016); Kabinet, Apoteka u Galeriji Waldinger, Osijek (2015); Memory Lane, Galerije du Jour, Agnes B., Paris (2014); 54. Oktobarski Salon, Beograd (2013); D-0 ARK Underground, Konjic (2011); Second World, Steierischer Herbst, Graz (2011); Mesto Žensk, Ljubljana (2009, 2008); Normalization, Platform Garanti CAC, Istanbul (2005); New Video, New Europe, The Renaissance Society, Chicago (2004) e Balkan Konsulat, Graz (2003).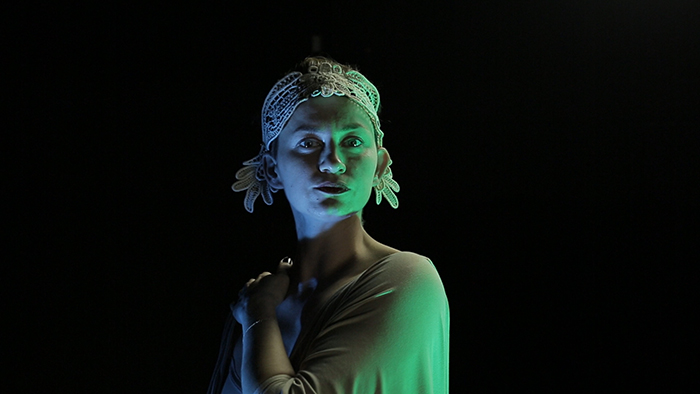 Con la cortesia di Lala Raščić, Eumenide
– – –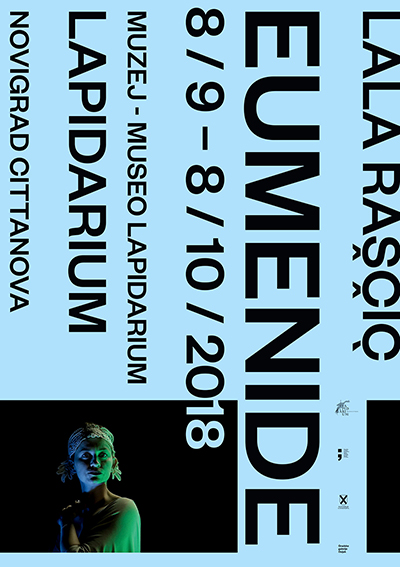 Design by Oleg Šuran
Cover photo: con la cortesia di Lala Raščić, Eumenide
Il programma è realizzato con i sostegni del Ministero della cultura di Repubblica Croazia e Città di Novigrad – Cittanova.