Lapidarium Museum
in partnership with
 The Research Centre for Romance Linguistics, University of Oxford
is pleased to invite you to the opening of the exhibition
50 years of the Istro-Romanian language: from the Oxford Hurren Collection to the ISTROX project
Sunday, June 26, 2022 at 8 p.m.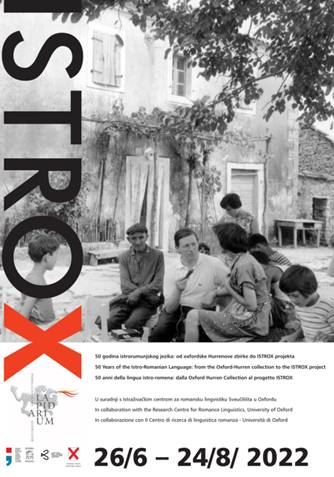 The ISTROX project has been developed since 2018 by the Faculty of Linguistics, Philology and Phonetics of the University of Oxford. The project combines linguistic research with the online and offline involvement of the Istro-Romanian community through fieldwork in Istria, the USA, and Australia. Istro-Romanian is probably the least researched living Romance language and therefore its phonology, morphology, syntax, and lexicon are of great interest to the academic linguistic community, especially linguists working on Romance languages. The project is built around a body of unpublished linguistic material collected by Tony (Antony) Hurren.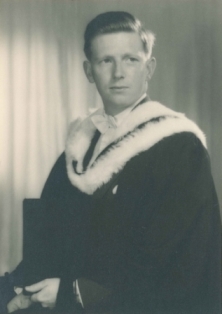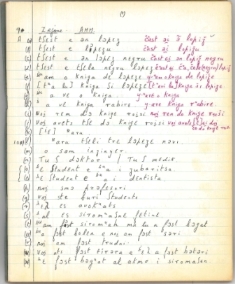 The lingvist Tony Hurren                 Note from Toni Hurren's notebook
Tony Hurren, an English linguist who studied Istro-Romanian, taught at Oxford University in the 1970s. After his death, Hurren's widow donated a large amount of unpublished material from his research on Istro-Romanian conducted in the summer of 1966 and 1967 in Istria, which including:
– about 30 hours of sound recordings (reel-to-reel or on cassettes) recorded by Hurren in several
Istro-Romanian villages in the 1960s.
– eight fieldwork notebooks written during Hurren's research visits to Istria, containing transcriptions
and / or translations of part of the audio material, as well aslinguistic questionnaires, information on
speakers and participants, etc.,
– a bound, but as yet unpublished grammar Istro-Romanian: functional phonology and grammar,
– 50 photographs of the Istro-Romanian community from the 1960s taken during Hurren's research
visits to Istria.
The material mentioned has not been made public so far. Despite the fact that Tony Hurren used materials from Istria for his review of Istro-Romanian grammar and for some published scientific articles on the Istro-Romanian aspectual system, his legacy is an exceptional and almost intact treasure trove of information on Istro-Romanian language, especially Istrian history, heritage and multiculturalism. As spoken Istro-Romanian language was almost unrecorded before the beginning of the 20th century, Hurren's material from the 1960s constitutes a sound record of part of the history of the Istro-Romanian language and its speakers, some of whom are still alive.
Members of the Istro-Romanian community from Žejane, Šušnjevica, Nova Vas and Letaj will also attend the opening of the exhibition.
Professor Martin Maiden, Director of the Research Centre for Romance Linguistics at the University of Oxford and Principal Investigator of the ISTROX project, will speak about the exhibition and the project.
Organizers: Museum-Museo Lapidarium, Novigrad-Cittanova and Faculty of Linguistics, Philology & Phonetics, University of Oxford
Curators: Jerica Ziherl and the ISTROX team
The opening will be followed by a musical performance by the group GorrMarr (Goran Farkaš and Marijan Jelinić).
The exhibition and publication were made possible by the County of Istria – Administrative Department for Culture and Homeland, the Ministry of Culture and Media of the Republic of Croatia, the City of Novigrad-Cittanova and the Tourist Board of Novigrad-Cittanova.