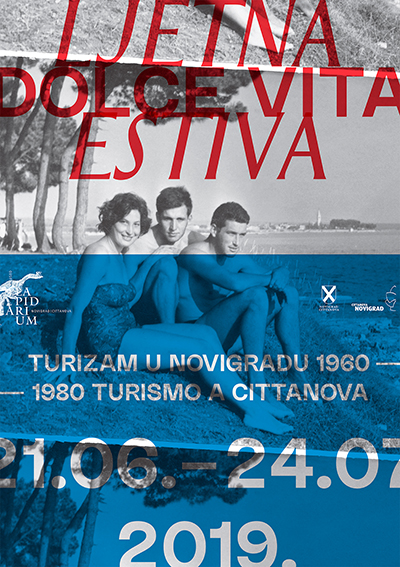 Museum Lapidarium, Veliki trg 8 a (Big square 8 a), Novigrad – Cittanova
Summer Dolce Vita – Tourism in Novigrad 1960-1980
Opening: 21 June 2019, 20:00
The exhibition is open until 24 July 2019
Idea: Ivan Žagar
Concept and set-up: Jerica Ziherl
Curators: Bojan Horvat, Dina Kamber
Design: Oleg Šuran
Translated by Ivana Ostojić
The aim of this exhibition is to present the origins and the development of tourism on the local level. Initially meant as a side programme accompanying the book presentation from a group of authors Turizam Novigrada / Il turismo a Cittanova, which is still in preparation, the exhibition grew to become an independent project exploring 'when and how it all began'. At our disposal were digitised materials from the mentioned book, materials from the museum holdings, as well as a comprehensive photographic archive, documents and testimonies gathered from the very citizens of Novigrad, the first Slovenian guests and other individuals and museums. The exhibition set-up is accompanied, chronologically, by the oldest Correspondenz-Carte, Cartoline postali and guide books, many original and unique photographs made by our citizens and visitors, postcards 'pozdravi z morja', archival manifestos, brochures, tourist leaflets, municipal decisions and, finally, rare hotel inventory and everyday objects typical of the 1960s and 1970s. To fill the blanks which turned out crucial in several stages, we resorted to audiovisual documents, press and music records, which proved a valuable source of information. The exhibition units aim to unveil and acquaint the citizens with tourism development and processes which made key impacts on the transformation of Novigrad's urban and cultivated landscape.
The research we conducted during the preparations irrevocably demonstrated that the 1960s were crucial – a time of reaffirmation of tourism and its implementation in society, a time when all over socialist Yugoslavia the process of 'renovation' and 'modernisation' was being completed, in the wake of a promise of building not only a period of prosperity, but also of restructuring tourism and other social processes. The consequence of all these events was a certain economic, material and cultural prosperity and, equally importantly, international branding. In brief, an atmosphere of a promised general progress was present, but it nevertheless came with a series of contradictions. All this mirrored on Novigrad in the late 1950s and 1960s: organised and planned tourism, the early rise of private accommodation, building Yugoslav and especially Slovenian workers' resorts and summer houses, as well as new hotels and auto camps.
Since tourism is still today one of the most important economic activities, not only in Novigrad, but also in Istria and entire Croatia, we wrap up the exhibition with a recent project Life after Tourism. Its authors Ivica Mitrović and Oleg Šuran use the method of speculative design practice to give a critical overview of the effects of tourism and offer possible alternatives for the future.
J.Z.
Thank you: Mirjana Benjak, Gracijela Bajić, Vesna Hadži Požgaj, Bruno Jurišević, Barbara Gretić, Vlatka Kamber, Branko Metzger, Zdravko Pilko, Mauro Radovan, Adriana Udovičić, Vladimir Vladimir (Novigrad/USA), Jadranka Vodušek, Marija Ziherl, Ivan Žagar, Margaret Walker (Australia).
Part of the materials borrowed from: Museum of the Poreč Territory, MEMO – Museum of Good Memories (Pula), Historical and Maritime Museum of Istria.
– – –
The programme is realised with the funds of the City of Novigrad – Cittanova and the Novigrad – Cittanova Tourist Board.