Museum Lapidarium, Veliki trg 8 a, Novigrad – Cittanova
14/9 – 7/10/2018 Parenzana – Series
Introduction: Marino Baldini
Exhibition opening: 14/9 at 7 pm at Museum Lapidarium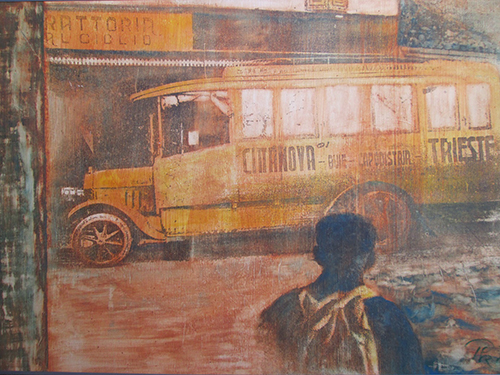 Parenzana, courtesy of Peter Karger
In memories of Istrian people, Parenzana has not been forgotten. After over 100 years she has experienced a surprising revival. There is still an existing road that today is used by young and old trekkers from all over the Europe. In his paintings by Parenzana, Peter Karger tries to show her historical significance and meaning she had for the past in Istria.
Alfred Goldschmid
Peter Karger
Born in the Bavarian town of Berchtesgaden, near the Austrian border and Salzburg. Owner of a successful art gallery "Galerie GANGHOF". He graduated at Academy of Fine Arts in Munich. Soon he started experimenting with photos and combining them with different painting techniques. Its deep connection with Istria began twenty years ago. He is spending several months a year in his old house in Buje. He was impressed by the red colour of Istrian soil that he began to use as a material for his paintings in combination with "light images" (photographs): "ERD-LICHT-BILDER" ("country-light-images").
– – –
The program is supported by the City of Novigrad – Cittanova and Touristic Board of the City of Novigrad – Cittanova.