Muzej – Museo Lapidarium,
Veliki trg 8a, Novigrad – Cittanova
4th September – 1th October 2020

The exhibition, conceptualized and curated by Milja Belic, has brought together artworks by 21 artists who work with the phenomena of kinetic and geometric art in Europe. Regardless of the artworks being small in format, the exhibition offers an overview of transformed ideas about kinetic art from the sixties in contemporary artistic practices.
Fabrice Ainaut (F), Milija Belic (F), Christine Boiry (F), Francesco Camponovo (CH), Michel Debully (F), David Fahey (IRL), Eva Francová (CZE), István Haász (HU), Wilmer Herrison (F), Barbara Höller (AUT), Jara Hernan (F), Renate Klara Kasper (D), Françoise Kulesza (F), Mitsouko Mori (F), Alex Pariss (F), Anne Rose Regenboog (NL), Luisa Russo (I), Gregorio Siem (VEN), Muneki Suzuki (F), Ada Weber (CH), Marian Weber (CH)
Simultaneously

The choice of artists for the CINÉTIQUE II exhibition is expanded by the works of the Japanese artist Go Segawa and a selection of works from the museum's collections (the Rigo Gallery collection) that refer to the pioneers of kinetic art (V. Vasarely) and protagonists of the first exhibitions held in Zagreb titled Nove Tendencije (New Tendencies) that were hosted in the Gallery (now Museum) of Contemporary Art in the sixties (G. Alviani, I. Picelj, A. Mavignier, J. Stein, J. Steele, J. Kapusta, H. Daxl ). Conceptualized and curated by Jerica Ziherl, the expanded exhibition defines kinetic art as an unfinished art project whose traces are present in all works of contemporary Croatian authors (Đ. Božić, J. Perić, I. Franke, D.Jurić, V.Čerić).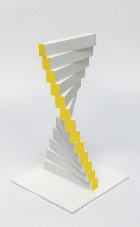 Milija Belic, Glissandi jaune, 2016, obojeno drvo, 44 x 20 x 20 cm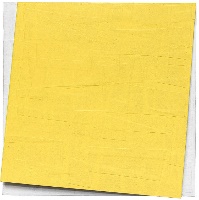 István Haász, Objekt 110812, 2011, akril, kolaž, drvo, 30 x 30 x 5 cm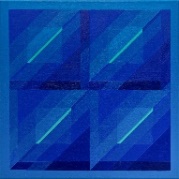 Hernan Jara, Quadryptique bleu, 2018, akril na platnu, 50 x 50 cm


Renate Klara Kasper, Struktur: englischrot / ultramarinblau, 1985, ulje na platnu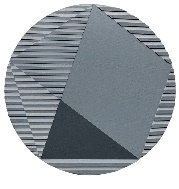 Mitsouko Mori, Cercle et pentagone, 2005, akril i kolaž na drvu, Ø 40 cm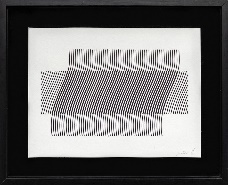 Alex Pariss, Transparence, 2018, miješana tehnika, 50 x 40 cm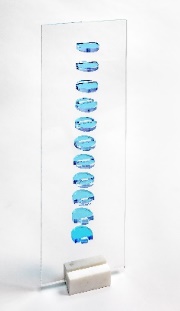 Luisa Russo, cerchi che attraversano un piano, 2019, plexiglasobjekt, 20 x 65 cm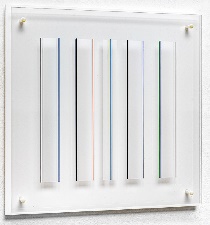 Muneki Suzuki, Transparence 18.10, 2018, akril na plexiglasu, 40 x 40 cm
– – –
Cover foto : Go Segawa, Blue, 2019; objekt, UV print, policarbonat, 22 x 22 x 22 cm