13th ARTERIJA International Festival of Visual Arts
9 – 11 / 9 / 2022
Italian community & Park, Novigrad Episcopate Park, Piazza Grande, Atrium & Museum Park
                                                                GIVE TOMORROW A CHANCE!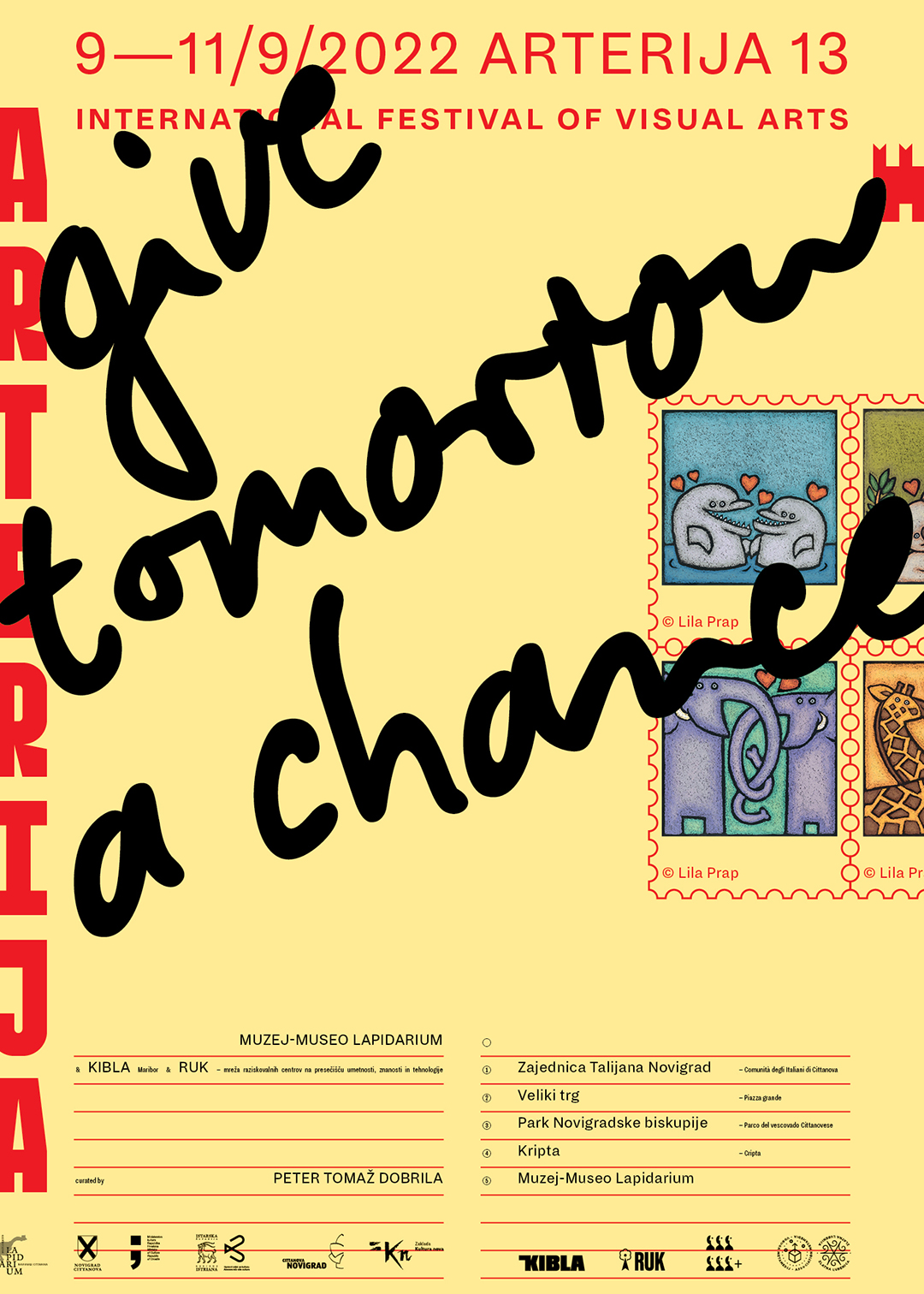 Man is a living being, he is a part of nature like everything else, be it animal or plant, earth, water, air, fire or stone. But part of nature are the so-called immaterial media of life narratives such as pictures, statues, computers, music, performance or dance. They possess many symbolic meanings, acceptance of the external and perception of the internal. Their intermediate relationships open spaces for dialogue which, with their expressive and unique poetics, individually or individually, within their own compositions and internal structures, pose a variety of questions and often provide answers.
In the joint interactions in the parks and urban spaces of Novigrad, the selected artists establish a unique medium that opens up the field of our interpretations and allows us to walk among the works of art as if through the memory of individual consciousness and collective unconsciousness. In this way art addresses us directly, it awakens its own worlds composed in the kaleidoscopes of our bodies in the broadest sense of the term.
At the same time, art materializes through processes and actions, thoughts and ideas that are established and assembled. The representations become reality and the action takes place in a medium that is close to us, it is equally ours and (only) its own.
True analog reality – a tautology that may no longer exist – has become digital, virtual (Virtual Reality). Not being able to physically determine it, it too exists only as an interpretation.
Therefore, it is technologically "digital" and "virtual" with all its alternatives of augmented reality, mixed, immersive, extended and others. Reality is like chemical compounds whose elements are complementary not only in circles, spirals and attractions, but also in opposites and repulsions.Therefore, the works on display manifest reality through their internal tensions, which are reflected through the different starting points and skills, knowledge and actions of the artists.
Give tomorrow a chance! Let's try to live not from today to tomorrow, but for today and tomorrow. We need to have and establish relationships between us and with the whole world. With nature, with technology and with reflections. Any bond can be broken; technology can be broken, because of nature 'rebelling against us'. Against itself? Humanization of nature? Instead, let's try to humanize technology as an extension of ourselves, whose physical laws and mathematical equations derive from natural laws. We collaborate with each other and with nature – we create with nature. Let's collect the water in the palm of the hand and set off on a journey.
Peter Tomaž Dobrila
EXHIBITION
9-11/9/2022, Novigrad Episcopate Park, 19:00 – 23:00
Lila Prap: Love
Lila Prep is one of the most rewarded and cherished illustrator, writer and poet in Slovenia.
Hers first book for children, for which she contributed both texts and illustrations, is the picture book Little Creatures, translated soon after publishing. She made her international breakthrough with the picture book Why?, which became a global phenomenon. She is undoubtedly one of the most internationally established authors in Slovenia. Her oeuvre comprises 17 unique picture books, around 80 thousand copies of which have been published in Slovenian, and more than 600 thousand copies in foreign languages.
9-11/9/2022, 19:00 – 23:00
GOLDEN WATERMELON 6.0, 2022
The exhibition of the finalists of the Golden Watermelon award was made possible through the Kultura nova program, which is part of the spin-off program of the Mi plus platform.
The Golden Watermelon Award is given to young artists and art collectives from Croatia who are engaged in contemporary and new media art, interactive installations and interdisciplinary art practices.
Marko Gutić Mižimakov: ANNE AMPERSAND (>600), Italian community Park
Anne Ampersand is a drag computer vision specialist working mainly as an outsourced producer of machine learning images. Sometimes she is employed to pretend to be an AI, other times to do work for which certain companies offering machine learning services still have no solution. This episode follows her engagement by an unknown chain of clubs and restaurants on the Adriatic coast, for which it is necessary to delete unwanted items from a large number of stock photos so that they can be used for promotional purposes. One of these 'objects' present in the image files is the Mediterranean Monk Seal. Ampersand notes that the number of photographs of the Mediterranean Monk Seal corresponds to the number of surviving individuals of this highly endangered species. Recognizing this coincidence as a magical entanglement, Ampersand seeks a way to possibly preserve the cutout figures. Her narrative is fragmented through different gestural elements: a sound piece, a video slideshow of sea landscapes with disappearing seals and a white line drawing.
Josipa Heinzelman: Places That Do Not Exist, Novigrad Episcopate Park, 20:00
The film 'Places That Do Not Exist' is an experimental film that deals with space. I recorded my paintings through the element of water and brought them to life using the medium of film. In that way they became places that move and transform from one to another, and that show their constant change that evokes different emotions. Places that change do not seek any identification with the real ones. They are places that in reality do not exist and that live only in the observer's subjective experience as his/her only. The film is perceived as a canvas and, without any technical intervention, achieves intermedial connection with my paintings, emphasizing emotions that each of the places carries.
Lucija Petrović: Watery Notes, Piazza Grande
Gentle or violent, benevolent or destructive, the water in all its forms hides great power. Water, the source of life, teaches the importance of cooperation and help­ing. Everything in life is connected and in harmony, so is also the human intervention which is a part of the process of nature's growth as well. The water dripping is perceived as an unpleasant sound, but it doesn't have to be so. It can do a lot of good and is useful to both peo­ple and nature, because it gives life. When the sound of the instrument is added, it all becomes a unified whole. From the call to action, interaction, or help, to the re­action and feedback in the form of happiness and love that permeates the whole process. Thus, the circle does not close, because the chain continues on.
Gaia Radić: The Hanging Gardens of Babylon, Piazza Grande
According to the Biblical story, after the Great Flood the world's nations united and set oΩ to rebuild the city of Babylon. Furthermore, they also wanted to build a tower tall enough to reach Paradise, through which they could "touch" God, thus materializing the immaterial and dematerializing themselves. The Hang­ing Gardens, believed to have been set by the slopes of the Tower, are one of the Seven Wonders of the An­cient World because of their still enigmatic irrigation system. The Gardens were apparently watered by a self-irrigation system, gather­ing water on the ground level, and rising it up through­out the whole building, very much alike the vascular system of the human body, managing in that way all the life in the building. If we look at this ancient tale through the filter of the 21st century, we will come to the conclusion that today's attempts to dematerialize the human mind is nothing more than our digitalized life­style which is separating us more and more from our physical material body.
Manuela Pauk: Life Under High Pressure, Italian community
Human minds perceive the deep sea as unfamiliar and dark immensity. But despite that, the submarine environment is filled with light from bio­luminescent creatures, from plankton to sea turtles. We take the resources from the sea – we catch and eat sea animals, extract oil and gas from the ocean beds. But the waste products of our civilization, often end up in the sea. When something is out of our sight, very often it is also out of our hearts and minds. Even if we don't care about it, that does not mean that we shouldn't. Sea animals too often eat that waste by accident and through them that same waste ends up on our plate. The biomimetic installation Life Under High Pressure is made from about fifty sea slug sculptures. The sea slug is a coral-dwelling animal and coral reefs are one of the most endangered ecosystems stricken by en­vironmental pollution. The sculptures hang from the ceiling. The installation can be exhibited in two ways: it can be either illuminated or it can hang unlit and in the dark, suggesting thus two points of view – that of a sea slug and that of a human.
INSTALLATION
10/9/2022,  Novigrad Episcopate Park, 19:00 – 23:00
Đanino Božić: Little Tornado 2013/2022, ambiental installation
The art work is made of numerous waste materials, mostly plastic children's toys, which the artist considers a "collection of superfluous". Discourse is ambiguous; as an example of engaged artistic intervention that actualizes the issue of plastic waste and climate change, the issue of child labor, general problematic issues of consumer society, or, it can be an association with an air vortex of destructive force. On the other hand, we have narratives about moving the established concept of artistic display, intellectual reflection on sculpture, space and the relationship of sizes, materials, colors and shapes. In this way, the work and the exhibition space are modified into a kind of artistic scenography that documents today's insignificance of every construction, layout, system, and structure. The only rule of the Little Tornado is that everything can be arranged this way and that, that it can be changed, removed from principle and meaning, from an idea, and arranged from one arrangement and system to another. It is about a shift in the medium of sculpture, which is no longer just an iconography of materials and themes, but now rather a simultaneous and multi-spatial connection of actions in which artistic, conceptual and discursive thought works equally.
MULTIMEDIA INSTALLATION
9/10/2022,  Novigrad Episcopate Park, 20:00
Rose, 2021
Rose is an audiovisual installation that presents roses in a different way. It moves them from the natural environment to the literary, sound and visual. The aim is to show part of their existence and beauty and connection with humans. Roses melt in the different feelings of all the stories, in the coexistence of history and the present, meanings and symbols. Through the materiality of hundreds of papers, silent roses absorb the transmedia atmosphere of colors and sounds, shapes and shadows, light and darkness, fullness and emptiness.
Production: KID KIBLA, Maribor
INTERACTIVE INSTALLATION
10/09/2022, Museum Atrium, 19:00
Robot Yaski Art
Drawing automata is a robotic art installation that creates sketches and drawings of people. The type of robotic arm seen in the installation is normally used in industrial production, while this project wants to liberate it, assigning it an artistic task. This interactive installation uses the Python Linedraw Library to transforms a webcam image into a drawing, sketched by the robotic arm. Although all the processes behind it are algorithmic, the result seems hand-drawn.
Varvara & Mar, Žan Rajšek, Maša Jazbec
Production: DDTLab
VIDEO PROJECTIONS
9-11/9/2022 Piazza Grande & Novigrad Episcopate Park, 20:00 – 23:00
Lavoslava Benčić: Pollination
'Pollination' is a tribute to botanical illustrators who, between the sixteenth and twentieth centuries, in Eastern Europe, Scotland, India, Brazil and Australia, meticulously documented many plant species and thus created basic structures that, after high-quality digitization, became suitable for training deep learning models. I used artificial intelligence methodologies for conversions from textual data to latent animation in the expressive style of botanical illustrators (The IllusTrip3D machine learning model). The work Pollination raises questions about the survival possibilities of individual plant species, about the possibilities of hybridization by combining more resistant and less resistant species, about the creation and introduction of new resistant plants, suitable for future conditions on Earth, with the goal of survival despitestrong evolutionary obstacles in coexistence with our civilization.
Tanja Vujinović: Bios6
Inflorescence, bloom, proto-machines are evolving in a temporary playground that is being reconstituted every time on demand. Seeds of the AvantGarden are sprouting. We are surrounded by the shifting landscape, and we are never alone. We are accompanied by synthetic life that reminds us of our place in the world. By stepping into the Bios, by planting seeds, we can also return to a potential future. By standing within this living sculpture we are enveloped by our own thoughts, that are activating our whole bodies.
As a perfect utopia, and a necessary one, Bios6 is a computational place where living and non-living nature and humanity co-exist, a place where people and machines interact and co-evolve, a place of life, where we feel alive. It is a place where humans and machines create a shared, philosophical life.
Tanja Vujinović: FLOWr
What did the first flower that appeared on planet Earth look like? This question can be answered through Platonic, universal forms, mythological forms that kept reappearing throughout art history, or algorithms that nature uses in constructing biological forms.
Mythology, religion and popular culture abound in the symbolism of plants, which independently or intertwined with other living existing or imaginary forms perform various functions in culture. They are at the same time protectors, guides, but they also intimidate with their not completely revealed alkaloid contents and the effects they leave on our senses. While alluring but also essential for human survival, the first flowers may have existed up to 100 million years ago, and many paleobotanists work on the puzzle of how the first flowers looked.
(virtual) Melania, 2019-2020, two videos
The cause for the erection of the monument to Melania is Brad's  first visit to Slovenia in the summer of 2018, when he discovered that it is the birthplace of the First Lady of his homeland. Another motivation could certainly be the aggressive anti-immigrant  rhetoric and policies of her husband. So Brad decided to  commemorate this contradiction named Melania together with  a team of Slovenian colleagues and the local community. After  choosing and buying the poplar tree and after meeting and  bringing an amateur chainsaw sculptor into the project, the monument was unveiled in 2019 in Rožno, near Sevnica, on the day when the American people celebrate the declaration of their independence. One part of the art project is also the documentary film which  shows the crucial steps in the making of the sculpture.
Exactly one year after the unveiling, on the 4th of July 2020,  unknown perpetrators burned down the monument in Rožno. Brad then removed it and, joining forces with the local community, began to plan  the erection of a replacement.
VIRTUAL REALITY
9-11/9/2022  Italian community, 19:00 – 23:00
Nikita Shalenny: The Bridge, 2017
Khora Contemporary
In Shalenny's VR work 'The Bridge', the viewer goes beyond the horizon on a compressed forty thousand kilometers journey around the world. A game of chance, the journey is the outcome of a line drawn from a bridge and further across the world, taking place in the dead of night, where fuzzy silhouettes of people tear along through desolate landscapes, fleeing into gray blizzards and shadowy forests. Based on watercolors by the artist, one setting replaces the other as the ghostlike figures cross birch forests, oil fields, abandoned churches and oceans in a limitless universe.
Christian Lemmerz: La Apparizione, 2017
Khora Contemporary
Entering the virtual reality of Lemmerz 'La Apparizione', one encounters the Crucified One. A golden tortured body, released from the cross and floating in deep darkness, his wounds revealing flesh and blood behind the glistening metal surface of his skin.
This must be how one pictures a sacral peepshow. Exposed to the viewer through the extreme visuality of the VR medium is a fusion between the suffering Savior and a bodybuilder bordering on vulgarity. In this space in between pathos and irony, between fake and real, the golden "Silver Surfer", Jesus Christ, endures the bodily event of death – this death that we live.
Paul McCarthy: C.S.S.C. Coach Stage Stage Coach VR experiment Mary and Eve, 2017                                                     
Khora Contemporary
The work was created as 11 virtual reality experiments, using motion capture to transfer the real movements of the actresses into virtual reality. The virtual reality experiment is based on the long-term project of the artist, 'Stagecoach,' or 'SC' for short. Encompassing a wide range of different media, the project includes a new film, inspired by John Ford's Western of the same title from 1939 starring John Wayne. Taking the form of a spin-off, a phenomenon associated with the entertainment industry, the VR work builds on a scene from the film of the artist, involving the two characters, Mary (played by Rachel Alig) and Eve (played by Jennifer Daley). Caught in the claustrophobia of constant surveillance by the two women and their doubles, the viewer becomes part of the vicious hallucination of a psychological mind game. Social conventions break down as the plot unfolds and escalates into a psychosexual trip of rape and humiliation.
Yu Hong: She's Already Gone, 2017
Khora Contemporary
Yu Hong's Virtual Reality work is placing the viewer in the middle of four moments, traveling through the life of a female character from her birth to her old age. The narrative follows differing timelines as the life and aging of the protagonist moves forward while history goes backwards.
Whereas her birth takes place in a modern hospital, the subsequent scenes take her and the viewer further and further back in time, until reaching the earliest known period in Chinese history.
Tony Oursler: space men r My friended, 2016
Khora Contemporary
The work by Tony Oursler is an exploration of a person's mind and story. The viewer is invited to follow George Adamski, a »contactee«, claiming himself to be the first person ever to have seen and talked to aliens and even visited other planets.
Tony Oursler has always been investigating and using contemporary technology both in his art and as a source of inspiration. The virtual reality artwork therefore lies as a natural extension to his pratice. 'Space men r My friended' arises from the path Oursler took with Imponderable and the Imponderable Archive shown at MoMA and Hessel Museum of Art at Bard College, NY, and explores the interlinking characters involved with the origins of Unidentified Flying Object photography.
The Nuba people 360°, 360° video – virtual experience
For decades, Slovenian human rights activist and world traveler, Tomo Križnar, has been exploring indigenous cultures, faithfully following his own vision of empathizing with their experience of everyday life, and drawing attention to their vulnerability through social media. He has been seeking innovative approaches in using the media to protect surviving indigenous peoples from intrusion into their intimacy. Križnar recorded the first 360° videos together with his wife, activist and human rights defender, Bojana Pivk Križnar.
A sneak peek into the indigenous reality of music, song and dance in the Nuba mountains, on the Blue Nile, in Sharafat and Komoganza, is now available in its VR rendition.
Tomo Križnar, Bojana Pivk, Tanja Hanžič, Maša Jazbec
Production: DDTLab, TNM
Vertigo Bird 2020, virtual ascent to Europe's highest chimney, 360° video
 We have created a very special experience – a virtual ascent to the highest chimney in Europe. The physical ascent was documented with 360° video technology to recreate the experience of the climb in virtual reality. Together with the members of the Dunking Devils acrobatic group, the user can now virtually climb the highest chimney in Europe, and observe their performance at the top of the chimney from up close.
DDTLab, Dunking Devils, HSE, Arctur, Iztok Kovač
Produkction: Arctur
9-11/9/2022, Piazza Grande, 19:00 – 23:00
Limestone 45º32'N, 13º38'E, 2020 Photogrammety 3D model, spatial computer glasses
A tale of friendship and a Slovenian rock. Friendship between  Jimmie Durham, who suggests the inscription, and Brad, who,  before dropping it into the sea, carves the following into the rock: "This is limestone, a sedimentary rock. It was brought from a  quarry in Lipica and weighs 731 kilograms. I purchased it from the  sculptor Miha Pečar in Portorož and transported it to Izola with a  truck owned by Gregor Basiaco. In Izola I hired a craftsman Rok  Pahor, who helped me carve the inscription. Then I rented the  boat Sea Wolf and dropped the rock here in the Adriatic Sea." And on the bottom of the rock, simply: "Rock Bottom."  It is possible to visit the artwork on the seabed with the help of  augmented reality. An attempt to show the invisibility of both  friendship and the sunken rock.
Self-portrait (in quarantine), 2020 Photogrammety 3D model, spatial computer glasses
A 3D model of the author that moves as if it were  playing a game in the emptiness, can only be described by another quote from Heraclitus:
"Man kindles a light for himself in the night-time, when he has died  but is alive. The sleeper, whose vision has been put out, lights up  from the dead; he that is awake lights up from the sleeping."
WORKSHOP
9-10/9/2022 Museum Atrium, 18:00
Duch at The Holy Crab
 Authors: Marko Vivoda and Gjorgji Despodov
Creation of the workshop: Marko Vivoda HEKA
Director: Marko Čeh
The workshop is dedicated to rethinking food waste, and focuses on polymers obtained from crab shells (chitosan). Through the narration, participants learn about the positive properties of chitosan and how to deal with this substance. Participants will make plates, cups, knives, forks and spoons from materials that are a combination of chitosan and other biomass. Such products are not suitable for human use due to their chemical and mechanical properties, but they are intended for plants, as they provide nutrients and natural fertilizers for different stages of growth. The purpose of the workshop is to critically consider single-use materials from a sustainability perspective. At the end of the workshop, there will be an opportunity to discuss the need for disposable materials, the review of product development and material properties, and how to address environmental issues.
ROBOT PERFORMANCE
10/9/2022 Museum Atrium, show starts at 16:00, 16:30, 17:00, 17:30, 18:00, 18:30, 19:00
Robot Show With Eva
 The future of industry and society will be strongly linked to robots, which is why in our DDTlaboratory we have decided not only to present industrial robots to visitors, but also those that will be much closer to humans. Eva, which you can meet in our DDTlab, is a humanoid social robot.
Humanoid robots represent new content and added value within the field of robotics, which we call the humanization of technology. Eva is a real attraction in our DDT laboratory, who likes to open up key questions about the technological society together with children as well as with scientists, artists and entrepreneurs.
DDTLab, Maša Jazbec, Žan Rajšek
Curator: Peter Tomaž Dobrila
The program was realized with the funds of the City of Novigrad-Cittanova, Ministry of Culture and Media of Republic Croatia,  the Tourist Board of the City of Novigrad-Cittanova, the County of Istria – Administrative Department for Culture and Heritage, Foundation "Kultura nova", Kulturno izobraževalno društva KIBLA, Maribor (Slovenija), Mreža centrov raziskovalnih umetnosti in kulture – Ruk and Khora Contemporary.