Gallery Rigo, Novigrad – Cittanova
Friday 14 / 12 / 2018 at 6 pm
JOSIP PINO IVANČIĆ
My first 45 electrics at the Art scene
Birthday tours 2018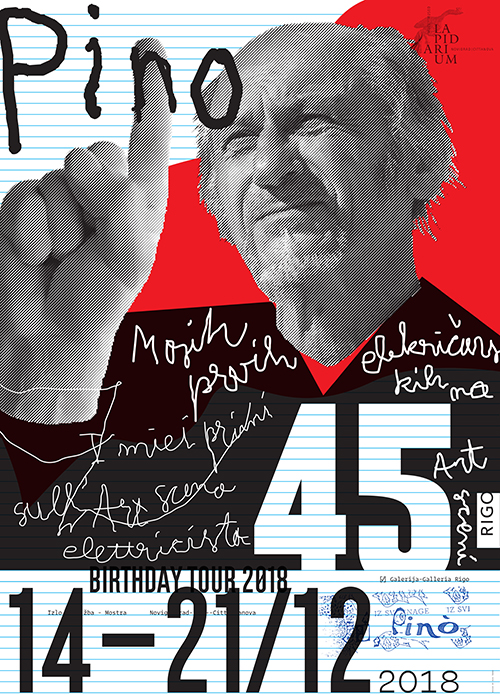 Design by Oleg Šuran
Over the last 45 years, the artist from Pula Josip Pino Ivančić became one of the most important personalities of art performance practice, both on Istrian and Croatian art scene. This is significant by countless of his installations and performances outside or at the edge of what we mean by the meaning of visual art, more precisely with performance, experimental music, performing arts and activism.
Pino's work experience at the shipyard Uljanik (Pula) provided him with the "right" to further radicalize the art space by questioning social value systems, primarily the meaning of work and position of workers. Subversive, ironic, ambivalent at the climax between the banal and sublime, Pino Ivančić almost half a century, pilgrimages spaces and the streets in the faith that you move the borders only when you approach everyone, all in favor of individual freedom and interpersonal solidarity. Just as we have been working with the author since 1997, it is enough to celebrate the birthday of Josip Pino Ivančić in the Rigo Gallery together.
In addition to the artist's presence, birthday card blanche in the Rigo Gallery lasts from 6 to 8 pm.
The exhibition will be open until December 21 of 2018, on working days from 10 to 2 pm, Saturdays and Sundays from 4 to 7 pm.


Trliž, courtesy by i.j. Pino
– – –
Cover photo: Design by Oleg Šuran